Pediatric Dental Care In Salt Lake City
Welcome to Kaleidoscope Kids Dentistry.
We're So Happy You're Here.
At Kaleidoscope Kids Dentistry, we believe every patient deserves healthy teeth, healthy gums, and healthy dental habits. Our pediatric dental office in Salt Lake City welcomes new patients. We are conveniently located just off the 5300s exit of i-15 Salt Lake City. Contact our office today to book your first visit!
Our family-owned, Pediatric Dentistry office in Salt Lake City treats our patients & their families like our own. From when you check in at the front desk, to when your child takes a seat in a dental chair for the first time, we want you to feel at home.
Dr. Ari Hobfoll DMD, Board Certified Pediatric Dentist
Dr. Ari Hobfoll DMD, Board Certified Pediatric Dentist
At Kaleidoscope Kids Dentistry, it is our mission to deliver top-of-the-line pediatric dental services to our patients. We care to a fault. Our team will treat your family like our family, and we LOVE our family. Dr. Ari's favorite part about being a Pediatric Dentist is helping children overcome their fears of the dentist.
Outside of Kaleidoscope Kids Dentistry, you can find Dr.Ari spending time with his family, skiing (falling), or playing guitar
Why Kids & Parents Feel
at Home at Kaleidoscope Kids Dentistry
A pediatric dentist you trust and feel comfortable with can be difficult to find. We want parents to be a part of the entire process and to be thoroughly educated with our services. We encourage you and your children to ask whatever questions you may have so that everyone feels at ease.
Our team wants to make sure that every visit is an educational and positive one. At Kaleidoscope dentistry we strive to be the best pediatric dentist in Salt Lake City. Schedule an appointment today to come and meet the team!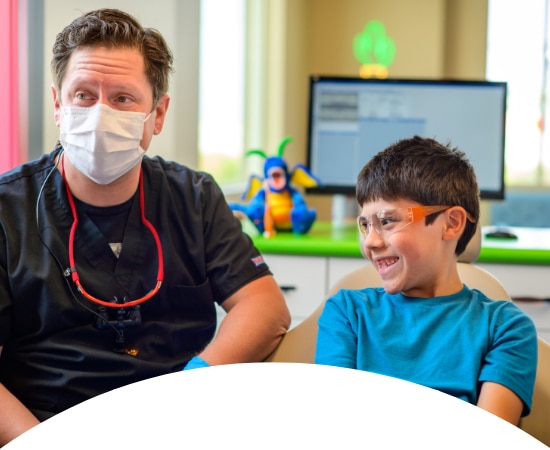 Kids will be kids and accidents happen. We are here for you in the event that your child is experiencing a toothache, swelling or a broken tooth.. We provide a fun environment to put your child at ease.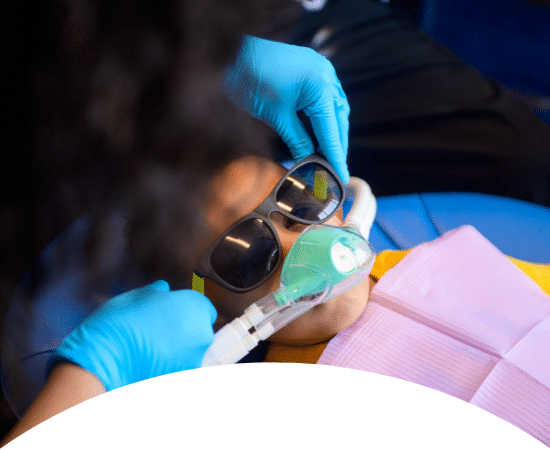 We offer sedation to reduce dental anxiety in kids so they can have healthy teeth without the worry. Our dentist office offers sedation for oral surgery and other services where we need to address more serious dental needs. Your child's dental work can be done in a single appointment in a safe, warm and friendly environment.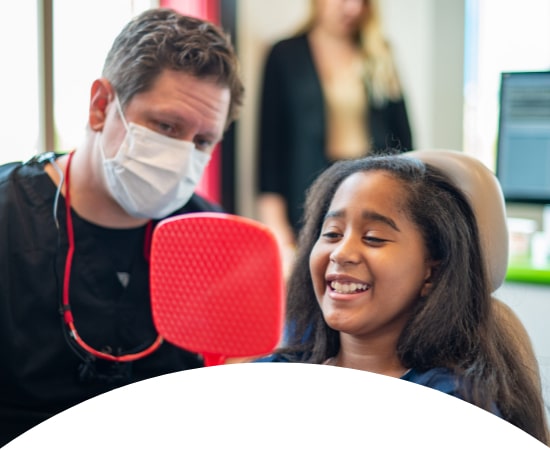 If you suspect your child may have a cavity, don't panic! Cavities and tooth decay are a part of life for many children and can be treated quickly and seamlessly.
Full Spectrum Pediatric Dental Care
In addition to creating an exciting and relaxing atmosphere for your family to enjoy, our caring staff at Kaleidoscope Kids Dentistry are also passionate about dental education and prevention. Our Pediatric Dentist office in Salt Lake offers all types of dental care for children, from routine appointments to dental sedation.
Pediatric Dentists should do more than just clean teeth. We make certain that every dental visit includes a dose of oral health education for both children and parents. Since developing good oral habits in children at a young age leads to a lifetime of superior oral health, our team is trained to make every visit enjoyable. By instilling strong, positive dental habits into your child, we are able to pave a lifetime of quality dental care and prevention. Visit us at our Salt Lake location today and discover the difference pediatric dentists can make.
Some positive feedback from our patients
Loved loved loved Dr. Ari. He is one in a million. After my daughter was traumatized at our family dentist, he made my 4 year old girl happy again and ready to get her teeth fixed. He even made a balloon animal for her so she would be comfortable while he was doing his exam. The staff was adorable and went above and beyond. I had a great quote and the front desk even helped me understand my insurance. I have another appointment in a month and my daughter can't wait. The doctor even gave me his personal cell phone in the meantime. Who does that anymore??? Such a great place.
We won't go to any other dentist! This is the best dentist and facility. We have followed Dr. Ari. We drive 45 minutes to get to the office. Its worth it! They know what they are talking about and treat us like family. With the need for crowns and other dental work like small cavities, or cleanings they always make my kids feel safe.
This place is absolutely AMAZING!! This was my kids first time at a dentist and the experience has been wonderful. The staff are all friendly, kind and patient. My kids always leave smiling and cannot get enough of the prizes. Dr. Ari is absolutely an amazing dentist, he is so much fun and knows how to make the kids feel less scared. 10/10 recommend.
Everything about this office is perfect for kids and parents. The office is both very clean and very engaging for the children with awesome decorations. Office staff are friendly and helpful with setting up appointments And sending out reminders! Dr Ari himself is wonderful. He is kind and relatable, he is silly with the kids, understanding with parents and best of all- he is Fast and Skilled. My kids adore him an his office is super easy to get to.
We can't wait tO hear from you!
We make it easy for you to connect with us! Give us a call, our friendly staff will take great care of you. If email or our easy appointment request form are easier for you, we can communicate that way as well. Just know, your time is valued, and we look forward to serving you. 
Email
smile@kaleidoscopekidsdentistry.com
Email
smile@kaleidoscopekidsdentistry.com