We listen & work together to create a truly unforgettable experience.
Welcome to Kaleidoscope Kids Dentistry, a place where we firmly believe that education and prevention play a crucial role in preserving the smiles of your little ones. Our focus lies in fostering dental education and cultivating positive oral hygiene habits in children from an early age. Dr. Ari, our esteemed pediatric dentist, leads our team with utmost dedication, ensuring that your child's dental visit is an enjoyable, stress-free and enriching experience. Dr. Ari's gentle approach and extensive expertise in pediatric dentistry create an environment where your child feels at ease and actively engaged throughout their appointment. Through our vibrant and interactive setting, we strive to instill the significance of oral health in children while equipping them with all the essential tools needed to maintain a lifelong journey of healthy smiles.
When it comes to your child's dental health, rest assured that Kaleidoscope Kids Dentistry is here to provide exceptional restorative dental care specifically tailored for children. We understand that cavities can be a common issue, especially during childhood. However, there's no need to panic because our skilled team of experts excels in cavity treatment. With our advanced techniques and gentle approach, we ensure that the cavity treatment process is quick, efficient, and completely painless for your child. If you suspect your child has a cavity, reach out to our dedicated pediatric dental office by giving us a call or completing our online form. We are ready to address any concerns and provide the best possible care for your child's dental needs.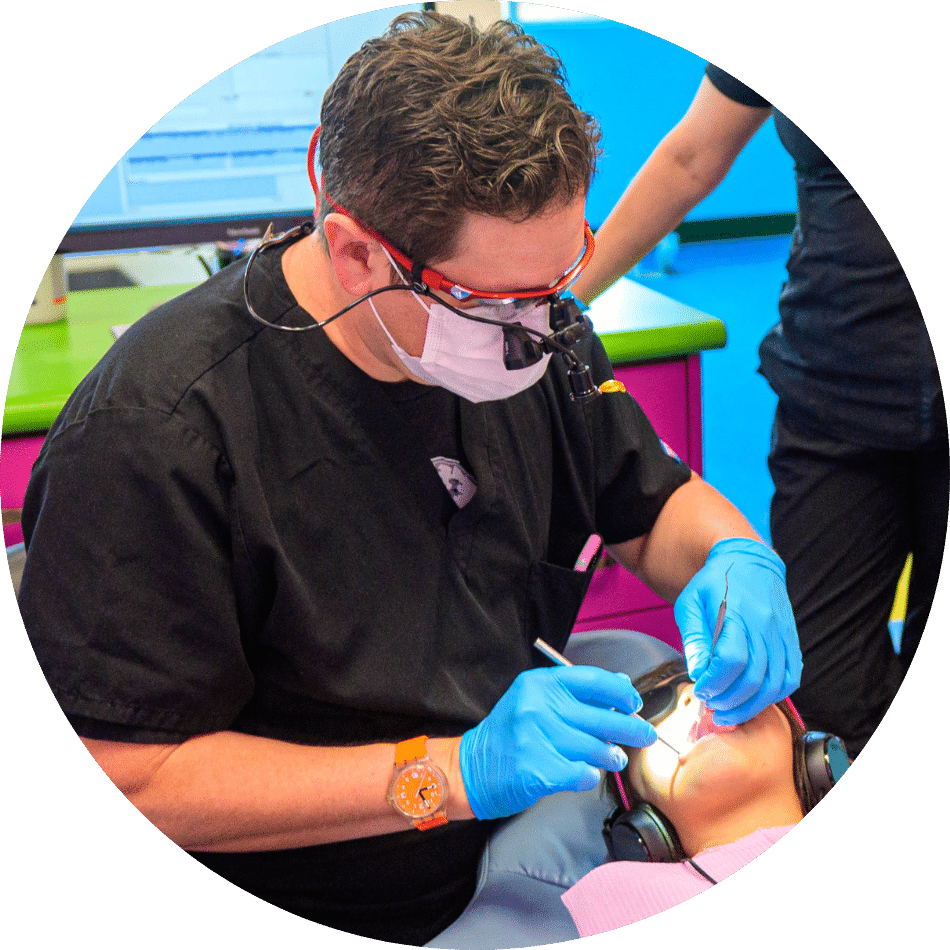 This error message is only visible to WordPress admins
Error: There is no connected account for the user 17841443926292288.
At Kaleidoscope Kids Dentistry, our mission goes beyond just providing dental care – we strive to instill healthy dental habits at a young age, setting the foundation for a lifetime of oral health. Dr. Ari, our talented pediatric dentist, leads the way in promoting preventive care and empowering children to take charge of their dental well-being. By creating a fun and engaging environment, we make learning about proper oral hygiene exciting and interactive. From demonstrating the correct brushing and flossing techniques to teaching the importance of an oral hygiene routine, we equip children with the knowledge and skills they need to maintain a healthy smile.
As soon as you and your family step foot into our office and settle into the dental chair, our expert team goes above and beyond to ensure both parents and children feel comfortable and at ease. Each member of our team is highly trained, professional, and committed to making every child's smile shine bright. Our friendly team is eager to welcome your family and provide the exceptional care your child deserves. Contact our office today or fill out our online form to book an appointment with us!
We can't wait to hear
from you!
We make it easy for you to connect with us! Give us a call, our friendly staff will take great care of you. If email or our easy appointment request form are easier for you, we can communicate that way as well. Just know, your time is valued, and we look forward to serving you.