Tips For Your Child's First Dental Appointment
Kids Dentist, Dr. Ari Hobfoll
Everything You Need To Know About Your Child's First Appointment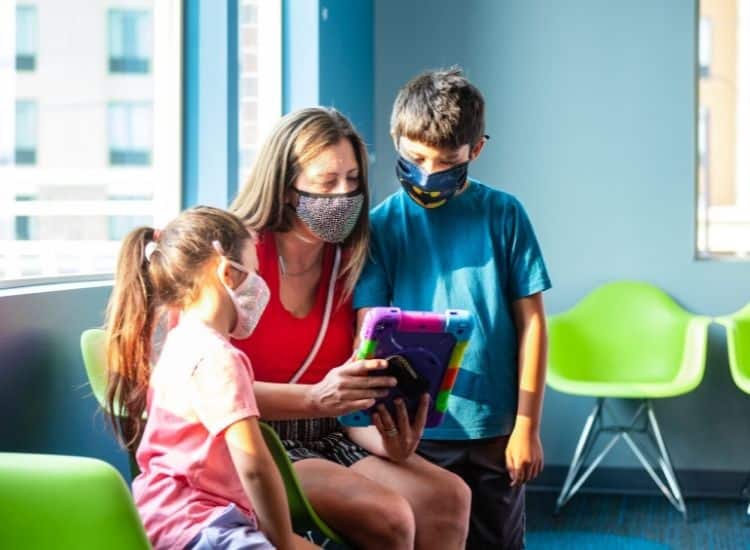 Is it time for your kid's first dentist appointment? Our team has created a space for you and your kids to enjoy. When you walk into Kaleidoscope Kids Dentistry you are stepping into your own galaxy. Our space-themed entry will put you in the mood for "some out of this world" dentistry.  
On a recent appearance with abc4 Utah, Dr. Ari explains what it would be like going to Kaleidoscope Kids Dentistry and why it should be fun and not fearful. When your child is terrified of the dentist, the greatest thing you can do is assist them in conquering their anxiety. Here are four simple suggestions to try before their next visit.
What to expect at your first dental appointment 
It's never too early to start teaching your kids about dental care. In fact, taking your child to the dentist for the first time around their second birthday is a great way to get them started on a lifetime of healthy oral habits. But before you schedule that first appointment, it's worth having a discussion with your child about what to expect. Explain that the dentist will take a look at their teeth and might count them or use a special mirror to see all the way in the back. It's also important to let them know that the dentist might use a small tool called a pick to clean their teeth. And while it's normal for kids to feel a little bit anxious about visiting the dentist, assure them that it will be over before they know it. By preparing your child ahead of time, you can help ensure that their first dental visit is a positive experience.
Tell Dr. Ari your kid's dental history
It is important to give the dentist a thorough health history at your child's first visit to the dentist. This will help the dentist to better understand any potential oral health issues that may be affecting your child, as well as to make more informed decisions when it comes to developing an appropriate treatment plan. In addition, if you know that your child can sometimes be stubborn or defiant in other situations, it is important to let the dentist know this prior to any restoration procedures, such as getting a cavity filled. This will allow the dentist to take any necessary measures ahead of time to ensure that your child has a positive and comfortable experience at the dentist.
Overall, keeping your child's dental health history up-to-date and communicating openly and honestly with their dentist are key factors in maintaining optimal oral health for years to come. As we talked to our friends over at Stuart Dentist, the best dentist in Stuart FL, shares that when our family keeps us informed we can better serve you. 
Participate in Games
One thing that all parents can agree on is that their children like playing games. So, take advantage of this mutual admiration. Make a game out of their next trip to the dentist.
Playing pretend is a terrific place to start. All you have to do is pretend to be a dentist and have your youngster be your patient. Brush and count their teeth gently with a toothbrush. As you "work," explain what you're doing and why dental health is so essential to your youngster. When you're finished, let your youngster switch positions and try again.
Avoid anything that may frighten your youngster further with whatever game you try. What we mean is that if you play pretend, don't make drilling noises, and don't go into depth on treatments your child might not even require. This might be illogical, and further terrify them.
Plan Their Appointment Strategically
You are more familiar with your child than we are. If you know your child is grumpy first thing in the morning, postpone their appointment until later in the day.
Check if your youngster has eaten lately and received enough sleep the night before. This way, they're more inclined to be upbeat when sitting in a chair. Of course, tantrums and poor moods are difficult to foresee, but planning reduces their probability of occurring.
You might also bring their favorite stuffed animal with you for the appointment to make them feel more at ease. Sometimes just knowing they have a buddy with them is enough to make them feel assured.
Anxiety is something our dentist understands. Our Salt Lake, UT pediatric dentist, has seen their fair share of apprehensive youngsters who would rather be anywhere than the office. However, you may be confident that everyone on our team has been taught to explain everything in simple terms.
Contact Kaleidoscope Kids Dentistry Today
Our team is here to help make sure that your child has the best experience we can possibly give them. Contact us today to ask us how we can better assist you in making sure that your child will enjoy the dentist with each and every visit.