Your Child's First Visit to the Dentist
Kids Dentist, Dr. Ari Hobfoll
Everything You Need To Know About Your Child's First Appointment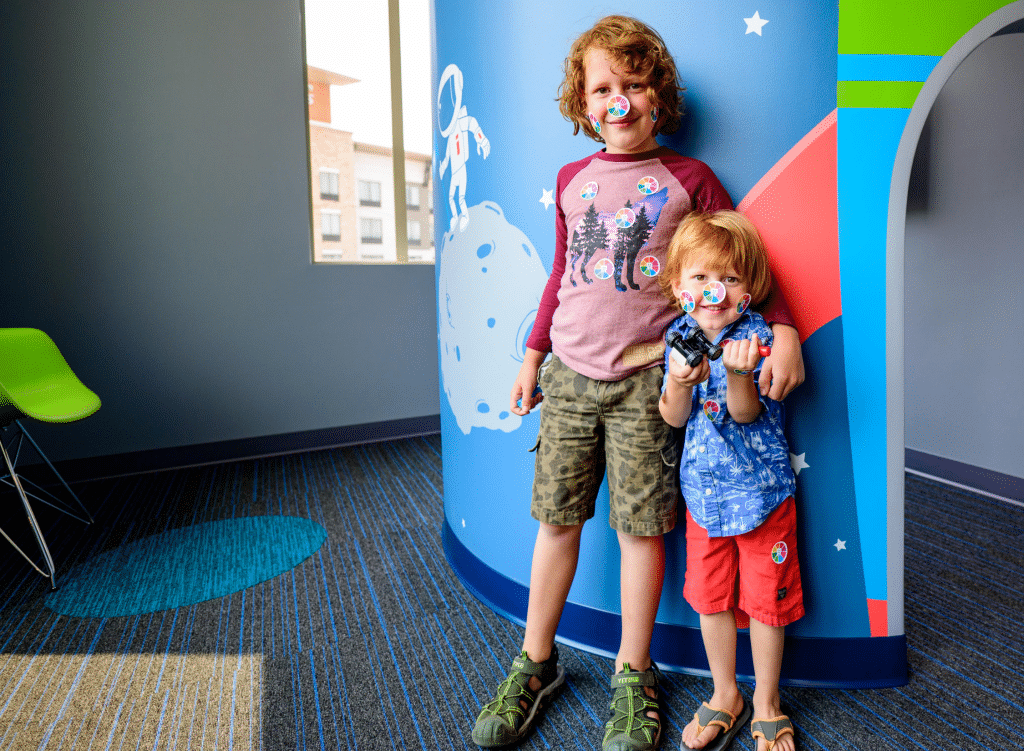 Is it time for your kid's first dentist appointment? Our team has created a space for you and your kids to enjoy. When you walk into Kaleidoscope Kids Dentistry you are stepping into your own galaxy. Our space-themed entry at our Salt Lake City office will put you in the mood for "some out of this world" dentistry.  
On a recent appearance with abc4 Utah, Dr. Ari explains what it would be like going to Kaleidoscope Kids Dentistry and why it should be fun and not fearful. When your child is nervous about visiting the dentist, the greatest thing you can do is assist them in conquering their anxiety. Here are four simple suggestions to try before their next visit.
When Should I Schedule My Child's First Trip to the Dentist
It's never too early to start teaching your kids about dental care. In fact, taking your child to the dentist for the first visit by the time they turn 1 year of age, is a great way to get them started on a life of healthy oral habits. Taking your child for consistent dental visits will help your child become familiar and comfortable with the dental office environment. This will help reduce anxiety and fear associated with dental visits in the future and promote a positive attitude toward oral care.
By taking your child to the dentist from a young age we will also be able to monitor the growth and development of their teeth, jaw, and bite. This will allow for earlier detection of any potential orthodontic issues and we can recommend treatment if necessary. 
Should Your Child See a Pediatric Dentist or a Family Dentist?
Pediatric dentists specialize in providing dental care specifically for infants, children, and adolescents. We undergo 2 years of additional training beyond dental school that equips us with the knowledge and skills necessary to address the unique dental needs of children. 
Family dentists, on the other hand, are general dentists who treat patients of all ages, including children. While they may not have the same specialized training in pediatric dentistry as pediatric dentists, they still provide valuable dental care for children. 
If your child is nervous about visiting the dentist, we recommend going to a pediatric dentist as they will have more knowledge and experience to help your child overcome anxiety. 
What to Expect at Your First Dental Appointment 
Before you schedule that first appointment, it's worth having a discussion with your children about what to expect. Explain that the dentists will take a look at their teeth and might count them or use a special mirror to see all the way in the back. And while it's normal for kids to feel a little bit anxious about visiting the dentists, assure them that it will be over before they know it and that they can win prizes for good behavior.  By preparing your children ahead of time, you can help ensure that their first dental visit is a positive experience.
Tell Dr. Ari About Your Kid's Dental History
It is important to give pediatric dentists a thorough health history at your child's first visit. This will help Dr. Ari better understand any potential oral health issues that may be affecting your child and make more informed decisions when it comes to developing an appropriate treatment plan. In addition, if you know that your child can sometimes be stubborn or defiant in other situations, it is important to let the dentist know this prior to any restoration procedures, such as getting a cavity filled. This will allow the Dri. Ari to take any necessary measures ahead of time to ensure that children have a positive and comfortable experience at the dentist.
Overall, keeping your child's dental health history up-to-date and communicating openly and honestly with their dentists are key factors in maintaining optimal oral health for years to come. Our friends over at Stuart Dentist, the best dentist in Stuart FL, shares that when our family keeps us informed we can better serve you. 
Participate in Games
One thing that all parents can agree on is that their kids love playing games. So, take advantage of this mutual admiration. Make a game out of their next trip to the dentist's office.
Playing pretend is a terrific place to start. All you have to do is pretend to be a dentist and have your youngster be your patient. Brush and count their teeth gently with a toothbrush. As you "work," explain what you're doing and why dental health is so essential to your child's teeth. When you're finished, let your youngster switch positions and try again.
Avoid anything that may frighten your youngster further with whatever game you try. What we mean is that if you play pretend, don't make drilling noises, and don't go into depth on treatment your child might not even require. This might be illogical, and further scare them.
Plan Their Appointment Strategically
You are more familiar with your children than we are. If you know your child is grumpy first thing in the morning, postpone their appointment until later in the day.
Check if your youngster has eaten lately and received enough sleep the night before. This way, they're more inclined to be upbeat when sitting in a chair. Of course, tantrums and poor moods are difficult to foresee, but planning reduces their probability of occurring.
You might also bring their favorite stuffed animal with you for the appointment to make them feel more at ease. Sometimes just knowing they have a buddy with them is enough to make them feel assured.
Anxiety is something our pediatric dentists understand. Our Salt Lake, UT pediatric dentist, has seen their fair share of apprehensive youngsters who would rather be anywhere than the office. However, you may be confident that everyone on our team has been taught to explain everything in simple terms and as stress-free as possible
Taking Care of Your Child's Teeth At Home
When you have your first visit with us, we will be able to provide you with advice on how you can help take care of your child's teeth at home. While we want to promote independence and educate your child on how to take care of their own teeth, there are ways you can help get them into a healthy routine. 
Encourage your child to brush their teeth at least twice a day, in the morning and before bedtime. Try and make it a fun and engaging activity by using a colorful toothbrush, playing their favorite song, or a two-minute timer to ensure they brush for the recommended duration. We also suggest investing in floss pics to make it easier for your child to floss on their own. Building this habit from a young age will help them carry on healthy dental habits as they grow. It's great for your child to practice brushing and flossing, but they are going to need your help until they can tie their shoes quickly.
We also suggest limiting sticky and chewy foods, such as candies, gummies, and dried fruits, that can cling to the teeth and increase the risk of cavities. The Canadian Dental Association states, "When your child eats or drinks sugars, the germs (bacteria) in your child's mouth mix with the sugars to make a mild acid. This acid attacks the hard outer layer of teeth (also called enamel). It can make holes (or cavities) in the teeth." To avoid this damage they recommend to, "Keep good snacks handy where your child can get them. Have carrot sticks or cheese cubes on the bottom shelf of the fridge," and "Do not give your child sugar-rich foods that stay in the mouth for a long time like gum with sugar in it, suckers (or lollipops) and other hard candy. Stay away from soft, sticky sweets that get stuck in the mouth such as toffee, raisins and rolled-up fruit snacks or fruit leather." 
Comprehensive Pediatric Dental Services
Our goal is to provide dental education and help keep your child's teeth healthy. Most appointments will involve routine cleaning, fluoride treatments, and some tips for your children to help them learn how to care for their teeth and gums properly. Our main goal with dental education is to avoid common dental issues that can occur in child's teeth such as cavities and gum disease. We believe that early education helps provide a lifetime of good oral health habits for our patients.
We are also able to provide treatment for many dental concerns under one roof. When your child has a cavity or requires oral surgery we are there to support you every step of the way. We treat every child's smile with the utmost care. We make sure that you as the parent are also thoughtfully informed on every aspect of the treatment.
Contact Kaleidoscope Kids Dentistry Today
If you are looking for a pediatric dentistry in Salt Lake City, look no further! We are always accepting new patients and would love to welcome you to the Kaleidoscope family. Our team is here to help make sure that your children have the best experience we can possibly give them. Contact us today to ask us about our dental services and how we can better assist you in making sure that your child will enjoy the dentist with each and every visit.